Anzeige der Artikel nach Schlagwörtern: Heudiasyc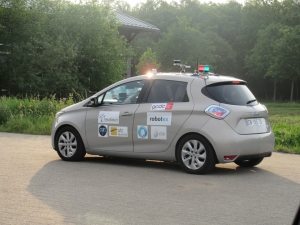 Renault et Heudiasyc, l'unité mixte de recherche entre l'Université de Technologie de Compiègne et le CNRS, créent SIVALab, un laboratoire spécialisé dans les systèmes de localisation et de perception pour les véhicules autonomes.
Ce partenariat scientifique et technologique est lancé pour quatre ans reconductibles. Il est le fruit d'une association de plus de dix ans et s'appuiera sur les plateformes de véhicule autonome d'Heudiasyc développées sur base de Renault ZOE.
L'inauguration de ce laboratoire SIVALab a lieu le 3 mars 2017, à Compiègne et en présence de personnalités politiques, dont Xavier Bertrand, Président du Conseil régional Hauts-de-France, ainsi que de représentants du CNRS, de l'UTC et de Renault.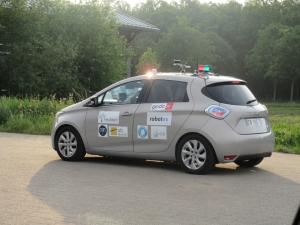 Renault and Heudiasyc, a joint research unit formed by UTC (Université de Technologie de Campiègne) and the CNRS, have created SIVALab, a laboratory specialising in localization and perception systems for autonomous vehicles.
This scientific and technological partnership has been set up for an initial, extendable period of four years. It is founded on an existing association that began more than 10 years ago and will use the Renault ZOE-based autonomous vehicle platforms developed by Heudiasyc.
SIVALab will be inaugurated in Compiègne on March 3, 2017, in the presence of personalities from the world of politics, including Xavier Bertrand, President of the Hauts-de-France region, along with representatives from the CNRS, UTC and Renault.